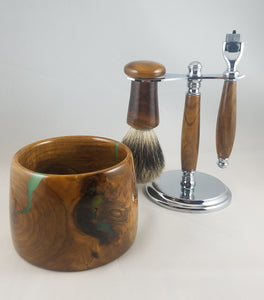 How to use and care for your shaving set
 Y
our new shaving set is handmade by me with care. With a little care on your part, it will help you get the best shave possible and last for many years.
Badger hair brush
Genuine badger hair will give the best lather and help soften and raise your hairs for the smoothest shave.
To use, wet the brush with hot water (not so hot that it is uncomfortable) and flick out excess water. Vigorously swirl on the soap to create a thick lather. Do not push on the brush. This can weaken the bristles. Swirl the lather onto your face being sure to go in a circular motion. Don't just wipe it on.
To clean, rinse the brush thoroughly under warm water and flick out any excess water. It is best to let your brush hang bristles down to drip dry. Do not store in a closed space unless completely dry. You may need to occasionally clean soap buildup from the brush. To do this rinse the brush under warm water while swirling the bristles gently on your fingers until the bristles are clean. Hang to dry. It is recommended to occasionally use a mild vinegar or Borax solution to maintain your brush. Allow the brush to soak for a minute, then rinse thoroughly and allow to dry.
Hand turned wood accessories (shaving bowl, brush handle, stand and razor handle)
Your shaving soap bowl, brush handle and razor handle are turned by hand from natural wood. To me the feel of wood is much warmer and softer than ceramic or metal. The natural grain of the wood makes your shaving set truly one of a kind!
The hand turned wood components are sealed with multiple coats of spar urethane. It is a marine grade finish that is very water resistant. You do not need to apply oils or sealants to them. As long as the finish is not cracked, or chipped, water will not reach the wood. It is recommended to drain any excess water from the bowl after use. After use it is recommended to rinse thoroughly and wipe dry the stand and razor and allow to air dry in the open to protect the finishes. Do not use abrasive cleaners or solvents. Use a soft cloth and warm soapy water when necessary. Periodically, you may wish to remove your soap from the bowl and let it dry separately to ensure it does not absorb excess water and become soft. This will help your soap last longer.
The Shave
It is best to shave immediately following a shower or bath when your hairs are softest. You can also use a soft towel that has been soaked in hot water. Hold this to your face for a brief time (15 -20 seconds) to soften and moisten your hairs.
Use a good quality badger bristle brush and lather up your shaving soap and apply to your beard. You may also use your fingers to massage your skin and relax your facial muscles.
Make sure you use a sharp razor and warm it under hot running water. Shave with the grain of your beard. This may require changing the direction in which you guide the razor. In awkward areas move the blade across the grain as necessary. Avoid shaving against the grain as this may cause irritation or ingrown hairs.
Rinse with cool water and pat dry. You may wish to use an aftershave lotion or balm. Use an alum block to treat any nicks that may have occurred while shaving.
---